December 2018
| Mon | Tue | Wed | Thu | Fri | Sat | Sun |
| --- | --- | --- | --- | --- | --- | --- |
| | | | | | 1 | 2 |
| 3 | 4 | 5 | 6 | 7 | 8 | 9 |
| 10 | 11 | 12 | 13 | 14 | 15 | 16 |
| 17 | 18 | 19 | 20 | 21 | 22 | 23 |
| 24 | 25 | 26 | 27 | 28 | 29 | 30 |
| 31 | | | | | | |
Calendar



So this year is about halfway through and me being halfway around the world, it's hard for me to get my hands on a load of new games, and a new video game console (that isn't handheld) is out of the picture so I've been indulging in some lower tech hits: Steam stuff, and 3DS specifically, and it's been a wonderfully strong year. That said, I noticed a common thread among most of my favorite games:
1. They were mostly RPGs (Child of Light, South Park, Bravely Default)
2. They were mostly story-focused
3. They were short.
Short has lately become synonymous in many game-reviews with bad or at least frequently counts against the reviewer's overall score. It's often paired with such dirty words as "value" and "replayability" as if a short game is somehow swindling us. This, of course, from a society where (in Japan at least) a movie is between $10-18 for 2 hours of entertainment, and a fun night of drinking and eating for 2-3 hours can go up to $30 (and that's on the cheap side) and sweet sweet public transportation is getting up to $5 for a round trip. Perhaps it's a skewed view of money-spending, and that all of these separate parts of our money-spending habits don't correlate but I don't see why a short game (quantified as 3-15 hours) equals bad value or a bad game.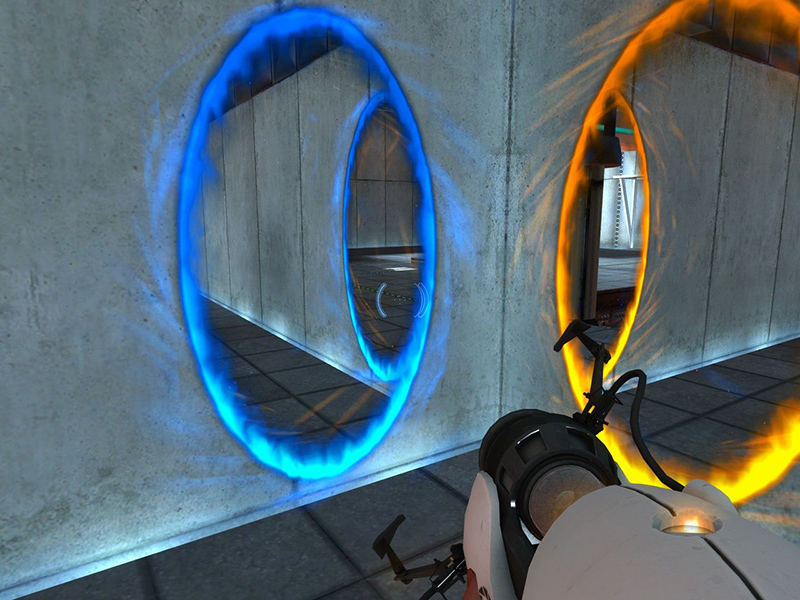 When Portal was finally torn away from the Orange Box and sold separately I saw it as a boon of hope for what the future of games could be. Here we had a solid game that can be beat in 3-5 hours – a length that is perfect because once the premise begins to wear out its welcome it finishes- and the whole thing was about $5. I got my copy for $2 because Steam sales are frequent and awesome. But beyond just being "short" Portal highlighted what "short" can mean in a positive way for game design. It showed more time spent on individual levels instead of a more generalized "experience", more focused difficulty and level progression, story-pacing that's quick, on-target and fast moving. In short (pardon the pun) Portal's brevity, to me, signaled the start of a hopefully positive trend for games to shorten down, and adjust cost to reflect that.
Now, in 2014 I've had several games that have paid out on this promise (kind of) and in unexpected genres. RPGs are games that have become synonymous with bloat. The average length of a western or Japanese RPG these days is in the 50-60 hour range and that is generally just for the story. My problem with this is that 50-60 number doesn't really represent 50-60 hours of tight, focused story, but about 10 hours of story and a lot of leveling, grinding, fetch quests and faffing about.
About 20 years ago (in case you didn't feel old enough) Chrono Trigger graced the Super Nintendo. Now, for those that know me, you should know that Chrono Trigger is easily in my top 5 and is maybe my favorite role playing game ever. And unlike many RPGs from my past that I've replayed and since soured to, Chrono Trigger stands up every time. You can guess where this is going, so I'll stop the pre-amble but it ultimately comes down to pacing.  There aren't a lot of wasted moments in Chrono Trigger, and the plot moves quickly from one big thing to the next. This time-constraint (get it? Chrono Trigger's about time-nevermindforgetit) also works heavily in favor of developing the characters who are forced to come into their own and go through their arcs in a timely fashion. We don't, as a player, have time to forget emotionally why we should care because the last plot point happened within hours, not 2 or 3 play sessions ago. I hate modern games that say "Well, you can enter the next dungeon, but only when you go back to the previous town and talk to the village elder, and then the village elder is probably gonna be crabby and want you to do something for him…" It's padding. It's hard to get immersed in the world when your brain wakes up and realizes that the goal of a quest is to make the game longer.
I am LOVING Bravely Default but (without going into spoilers) it makes you play major parts of the plot several times over for the sake of the story and that padding STARTS at the 50 hour mark. If Bravely Default just had the balls to end or do this plot point differently it would easily be my game of the year. But nope, it succumbed to bullshit "It's an RPG so it better be long, because that's what RPG means." That isn't what an RPG means, it's acceptable to have short RPGs.
Playing through a FULL-playthrough of Chrono Trigger, i.e. all of the sidequests, getting all of the triple techs, hidden items, extra dungeons and beating the game all takes maybe about 25-35 hours depending on how leisurely you roll (I roll around quite leisurely myself). This number is mind blowing when you compare it to even other games in the same decade (Final Fantasy VII, if one indulged in the sidequests could take 70+ hours) and even more mind-blowing if one thinks of modern RPGs like Skyrim (hundreds and hundreds of hours).
So what I'm trying to say is that games of Children of Light, and South Park have really scratched an itch that I hope continues to be a positive trend: taking bloated genres and bringing them back to their streamlined roots. Maybe I
did
hope for a little more content in Children of Light but yet. And with more digital stores out there hopefully these short experiences/less money games continue to be a thing.
Also, and this is maybe a hope that is specific to me, I hope RPGs in general have a trend of de-bloating. Yeah, something like Skyrim where the focus of that game is exploration, make that game long because well…you're exploring, the game is doing what it was designed to do. But when you make a story-driven game 100+ hours but don't have 100+ hours of story to give…just…don't do that.
Goddess of the Seal




Posts

: 3582


Join date

: 2013-02-25


Age

: 29


Location

: Colorado




Similar topics
MMO's have always been tricky for me. Because I think well-designed MMO's it's not necessarily about just content but the social factors. Like a good board game, it's not about the game itself but the social interactions and opportunities that game creates, and I think MMO's are similar.

That said, I personally don't get into MMO's because I'm an antisocial prick.
I'm thinking of going east coast when I move back actually, not back to Colorado. And I'm not antisocial in life...just when I game. I'll go out, play board games with people, go out drinking but when I'm playing games that's something I've always wanted to do alone.

P.S. I have an Ipod touch so if it's an app I can likely play scrabble with you now...
I'm the same way, I'm more antisocial when it comes to gaming as well. I like a good single player game, and I almost never talk to people I don't know when I game online.

I think the first time I played Chrono Trigger which was maybe 2-3 years ago I beat it in around 25-30 hours. Definitely had good pacing. You could also throw Costume Quest into the mix as being one of those great short RPG games. That's one fine game.
I don't really like the price comparison to other activities, but you seem to understand that is a little tough to compare. I think there is generally a problem with game pricing. There needs to be a more variable scheme in place especially on consoles. I do have general ideal game lengths in my head for different types of games, but they aren't hard and fast. There is a general satisfaction level I must meet first and foremost. Regardless of length am I satisfied with the game I played? I do think "the short good games are better than long bloated games" is a flawed argument though (not that you are making that argument). There is such a thing as good long games with no bloat. This is what developers should be shooting for. I imagine the cost of technology and all of that made it so spending time on the more important stuff was a little harder going from 6th to 7th gen.

Of course, you bring up a good point that there are inherent advantages to a game simply being shorter. And if priced right, I can dig that. I do think there have been plenty of short games though more recently probably spurred from XBLA and things like that. So I'm not sure I need more, but I'd agree that seeing them in more varied genres would be good.

Worth noting, I am filtering this all through my view of the genres I like though. Where for example a linear action/adventure game I think should ideally be 12-15 hours. Your blog certainly seems to veer more towards rpgs as examples and the expectations and examples of the sort of filler to make these different games longer would be very well... different.

Great topic. I feel making these blog things was not in vain now!
I'm in the same boat. Padding is one of the most annoying things to me in a game, I'd rather the developers just stick their good ideas only and call it a day. I'd gladly pay $60 for a 5 hour game so good that I want to replay it over and over than for a 20 hour game with only 5 of the hours worth playing which I may not even get to because it makes me want to quite early.
I feel like if the best you can do is five great hours (whether the end result be a lean 5 hour game or a 20 hour game that is mostly padding), you shouldn't be charging $60 for your game. Because there are plenty of 10-15 hour games that don't resort to padding out the length and are great throughout for $60. So why should we expect less from these other games?
Yeah, long and bloated definitely doesn't mean bad if that's part of the experience the developers want. Again, I think Skyrim is a good example of a game that's long and bloated but great because exploring and stuff is the big part of the fun so if it was really short it would suck.

But yeah, I don't know what the correct pricing scheme is, and making comparisons is really only for the sake of numbers than an actual viable comparison but game pricing does need some sort of scale. Not an industry enforced one but some sort of general, unspoken standard. NO idea what that could be though.
I'm not saying its the option developers should go with, I'm just saying what they fear when they pad games is better than their solution. And I think bringing in Skyrim is when you compare apples to oranges. It's point is giving a giant world as opposed to say Uncharted who's point is to put you through a scripted adventure.
I was more responding to Trip on the Skyrim point saying it's not a "short games rule long games drool" type argument.

That said, I agree with you as well, they should stick with what they're good at and not be afraid to let it end if that shorter product is packed with good ideas.

---
Permissions in this forum:
You
cannot
reply to topics in this forum