August 2017
| Mon | Tue | Wed | Thu | Fri | Sat | Sun |
| --- | --- | --- | --- | --- | --- | --- |
| | 1 | 2 | 3 | 4 | 5 | 6 |
| 7 | 8 | 9 | 10 | 11 | 12 | 13 |
| 14 | 15 | 16 | 17 | 18 | 19 | 20 |
| 21 | 22 | 23 | 24 | 25 | 26 | 27 |
| 28 | 29 | 30 | 31 | | | |
Calendar

Because I love these threads.

What did you wonderful people play in June? Was it any good?

_________________
One more final.
Steam - Rainjar
PSN - RangerD11
Volgin's Hand on my Crotch




Posts

: 562


Join date

: 2013-03-29


Age

: 23


Location

: England



Thanks for making the thread. I will leave these to you from now on Rainjar.

I played so very little this month:

Yaiba: Ninja Gaiden Z: Overly long battles and enemies with way too many hit points make it a completely frustrating experience. The combat is dumb button mashing fun when they don't go overboard with the enemies. And I like the style, but that is about all there is going for this game. Grade: D-

Resogun Heroes DLC: Awesome DLC. Survival is addictive as hell with plenty of cool new twists like fun powerups to add a twist to typical Resogun and Demolition is a nice shorter mode for when you only have a few moments to play. Grade: A

I also played through Jak and Daxter: The Precursor Legacy and most of Jak 3 on Vita (still working on 3). As I mentioned before I love these games to death and playing them on a handheld is a pretty damn cool experience, but they really aren't the best way to play them. Expect some framerate and control issues. Nothing game-breaking by any means, but just less than ideal.
Goddess of the Seal




Posts

: 3220


Join date

: 2013-02-21


Age

: 32


Location

: New Jersey



Sweet, alright. Could you still throw 'em in the archive after each month though? Wouldn't want them cluttering up the page.
I keep hearing positive things about Resogun, I'll really need to check it out at some stage.
Tearaway
It certainly put a smile on my face a few times, this game was just jam packed with charm. The style is brilliant and the way they use all the little gimmicks of the Vita is actually pretty cool and fits with the game. Maybe it's due to my lack of creativity but I rarely thought outside of the box when it came to designing things so the game ended up dragging towards the end a little for me but overall it was really neat game and done some really cool chill things. I don't think I'll ever replay it though and collect everything, it's very much a "Oh, well that was cool" game to me.
Recommendation Status: Purchase if curious or want to play something charming.
Killzone Mercenaries
How To Waste The Idea Of Being A Mercenary - The Game
It's a portable game so surely it'd be to have loads of mini objectives that take place across the planets that can help influence how the war is going with maybe a few vital story missions and some end goal/end game about getting as much money as possible for X. Instead we get a linear story about some shit the characters constantly reminding you to do objective X to achieve Y so that'll activate Z.
The core gameplay is actually great. Buying all the weapons is really enjoyable and the guns back a major punch. The input lag makes less sense because of how twitch shootery it is though, that's one of my main problems with the core gameplay itself. Multiplayer is naff.
Recommendation Status: Worth picking up relatively cheap if you want to a shooter on the Vita.
Skullgirls
Fuck fighting games and fuck learning a million different precise button prompts to be able to do anything, it gives me blisters and I don't have the patience for that shit. It looks damn pretty though, daaaaaamn pretty.
Recommendation Status: Fuck fighting games and fuck you for liking them.
Recettear: An Item Shops Tale
Picture:
Recommendation Status: Buy this game.
Ikargua
I've only played a few minutes of it but it seems interesting. I'm terrible at bullet hell games but the mechanics about taking hits just as much as dodging them is really interesting so I think I'll stick with it.
Recommendation Status: Iunno.

_________________
One more final.
Steam - Rainjar
PSN - RangerD11
Volgin's Hand on my Crotch




Posts

: 562


Join date

: 2013-03-29


Age

: 23


Location

: England



Mario Kart 8: You all know what this is. Grade: A+

Atelier Ayesha: The Alchemist of Dusk: This was a missed one from last year. I gotta give Gust some credit here: The Atelier games still aren't on the level of Final Fantasy or Tales, but Gust steadily improves the series with each game. Awesome character designs/models, great RPG gameplay, weak backgrounds. Now I want Escha and Logy. Grade: B.
_________________
I'm the number one mack daddy of Oklahoma City...
PSN: Super_King666
Nintendo: SanAndreasX
Steam: San_Andreas_X
3DS Friend Code: 2294-5129-1033
Biotic God




Posts

: 1032


Join date

: 2013-02-22


Age

: 39


Location

: Midgar



Ratchet & Clank: Quest For Booty: Played this little number before A Crack In Time could arrive from Gamefly. Not too bad although I wish all of the weapons that I bought and upgraded from my Tools of Destruction were still with me from the game's start.

Ratchet & Clank: A Crack In Time: Maybe too soon to tell but this might be my favorite R&C game, if not on par with Up Your Arsenal. Easily one of the best PS3 games that always seems to have one more goodie up its sleeve.

Batman: Arkham City (Harley Quinn's Revenge DLC): Arkham City has turned out to be one of my favorite games of the last-gen and thankfully this DLC went on sale for $5. It isn't too lengthy but there's plenty to do and the best part is playing as Robin. He fucking kicks ass. That great, big mob fight near the end was equal parts frustrating and satisfying. All that kicking, punching and breaking bones made me try harder and use more strategy. It doesn't have as satisfying an ending as the main game but that's a minor quibble.
_________________
"I'm not married, I don't have any kids and I'd blow your head off if someone paid me enough." -Grosse Pointe Blank
Xbox Live: MongoSantaMaria
Beary Bad Joker




Posts

: 877


Join date

: 2013-02-22


Age

: 36


Location

: Arkansas



Kirby Triple Deluxe- Didn't post this last month because I was only at the fourth world then. It's good, but not great. RtDL had the perfect balance of challenge IMO where it was easy if you only wanted to get through levels, but you'd get a challenge going for everything. Here it's kind of there's a puzzle and if you don't get it in enough time, you won't be able to get the collectable. But the mechanics are still fun and there's always a lot of charm even if the 3D gimmick isn't as cool as the super powers from RtDL. I'd give it a B-

Walking Dead Episode 3- Just awesome. Got to see that WD gore and fucked up shit that I love the series for. Could have used a little more time to it (that cliffhanger was a dick move), but a great entry. A-

1001 Spikes- Awesome game. I'd recommend it more on 3DS/Vita assuming you don't throw the thing. Seriously, this game is relentless. B+

Pokemon Emerald- Got a Retron 5 and believe it or not, I never gave Emerald a go before now even though I had a copy. Had some issues with my save so I never completed it, but it holds up well. There is an annoyingness to how so many Pokemon either have garbage stats or garbage movepools which Gen 2 did not have as bad and Gen 4 fixed for good and there's way too much water, but other than that it's still Pokemon. A-

Squids Odyssey- Basically an iPhone style game with a turn based strategy twist that gets old as quickly as an iPhone game. C-

Mega Man X- Played it for the first time. Great game, holds up amazingly. A

Mind Zero- Haven't finished this one, but posting it here anyways in hopes that it will convince me to finish it. This game wants to be Persona 4 so bad it isn't funny. The cast is douchier Yosuke, talking Yu, lolita Yukiko, and bland Chie. Too much talking over an uninteresting story. D

Scram Kitty and some kind of stupid addition to the title- Review game. Controlled weird and full of objectives which meshed horribly with those controls. Everyone else seemed to like it, no clue why. D-
_________________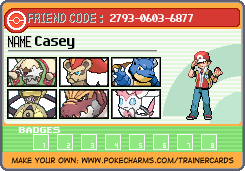 Goddess of the Seal




Posts

: 3333


Join date

: 2013-02-21


Age

: 25


Location

: Placentia, California



---
Permissions in this forum:
You
cannot
reply to topics in this forum